Conditions weren't great for this Wednesday evening (third quarter Moon, intermittent clouds, temperatures near freezing), but a break in local bad weather near the peak of the Geminid meteor shower and Mars conjunction prompted me to take a chance.

Mars animation sequence info:

Date/Time: 14 Dec. 2022
Location: Vanishing Point Observatory
Camera: Player One Saturn-C
Lens/Scope: Celestron C11 + 2X Televue Big Barlow
Filter: Player One UV/IR
Mount: Losmandy Titan
Guiding: --
Image Processing: Autostakkert / Registax / Photoshop / Lightroom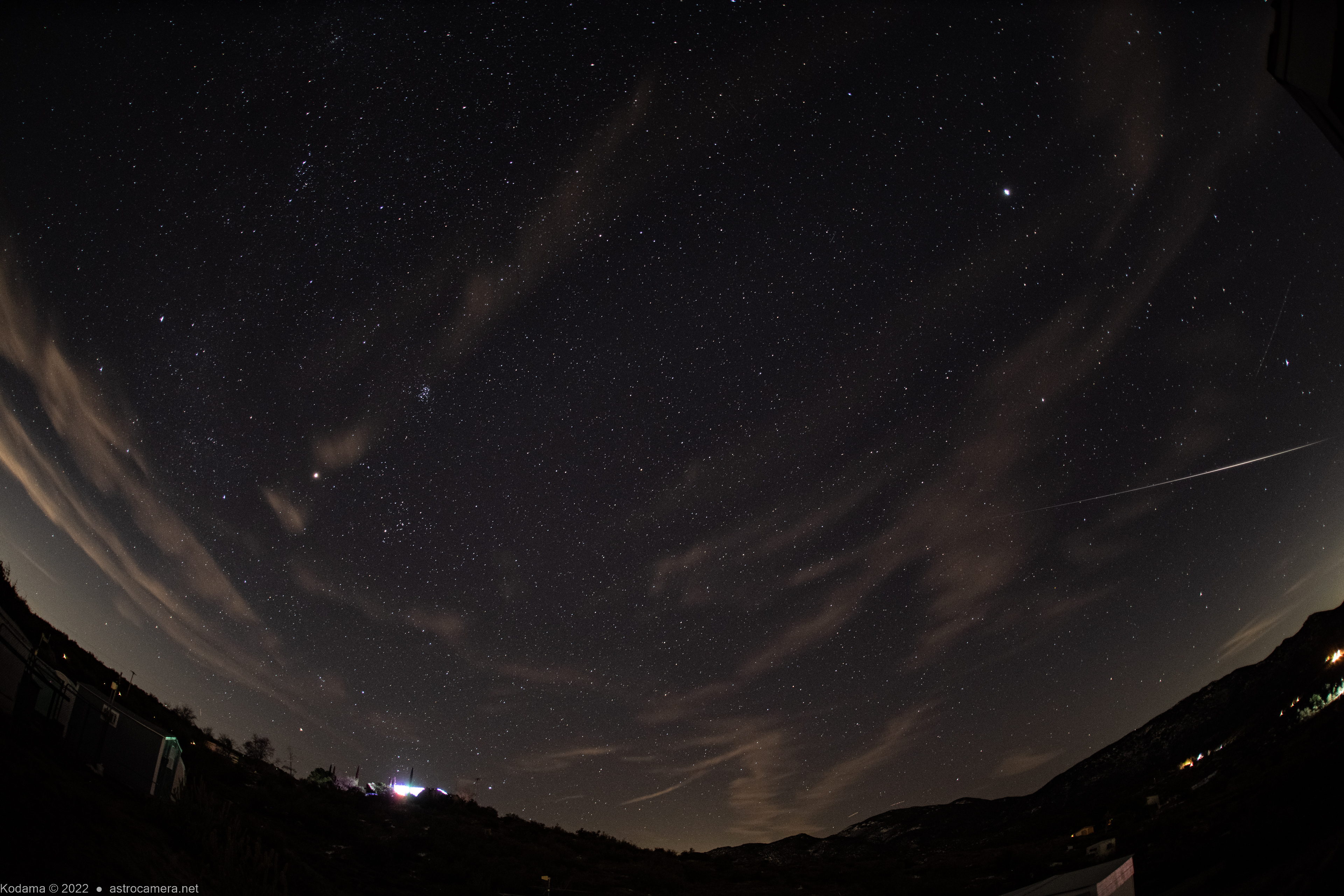 Geminid meteor.
Composite of some of the Geminid meteors (does not include meteor in previous image). Click on the image to see a
larger version
.
While shooting the Witch Head nebula with a 180mm lens, I also caught a Geminid meteor (the long diagonal streak). Small horizontal streaks near the bottom of the image are geostationary satellites. The bright star at the right edge of the frame is Rigel. The Witch Head nebula is very faint in this shot because I ended up with too few frames due to the Moon rising and clouds drifting by.
After moonrise, clouds also drifted in and a moon ring around appeared along with the rarer moon dogs. The moon dogs were only visible for a few minutes. The rings and dogs appear about 22° away from the moon and are caused by high altitude ice crystals.
Time lapse video of the entire night is here: https://www.youtube.com/watch?v=uu-I7b9v6co
Gemini meteor, moon ring/dog photo info:

Date/Time: 14 Dec. 2022
Location: Vanishing Point Observatory
Camera: Nikon D850 @ ISO 1600
Exposures: 20 sec.
Lens/Scope: Sigma 15mm fisheye @ f/2.8
Filter: --
Mount: --
Guiding: --
Image Processing: Lightroom

Witch Head photo info:

Date/Time: 14 Dec. 2022
Location: Vanishing Point Observatory
Camera: Canon RP (modified by Hutech) @ ISO 1600
Exposures: 97 x 90 sec.
Lens/Scope: Nikon 180mm @ f/2.8
Filter: IDAS HEIUB (light pollution, sky-glow filter)
Mount: Sky Watcher Star Adventurer GTi
Guiding: --
Image Processing: Nebulosity / Photoshop / Lightroom